When it comes to psychics, the other side and spirits, I've always been a believer. Ask any of my friends, they'll tell you of my tarot cards parties and my love of the supernatural.Yet, I still wasn't prepared for the encounter I had with psychic medium Matt Fraser on Tuesday, Dec. 17.

Fraser, alongside his beauty queen love Alexa Papigiotis, has a new docu-series Meet the Fraserscoming to E! (premiering Monday, Jan. 13, to be exact). Thus, I originally sat down with the new E! couple to discuss their relationship, their entertaining family and so much more.

Not only were Fraser and Papigiotis incredibly warm and generous, but they were also very forthcoming. Perhaps, this is why I was emboldened to ask if any spirits tried to connect with me during our sit down.

Initially, Fraser gave me a flat out, "No." However, per the 28-year-old clairvoyant, he can compartmentalize the voices during an interview.

Before I could assure him that a reading was not necessary, Fraser began sifting through the spirits reaching out to him.

"Who died in tragedy in your family?" the Meet the Frasers medium asked.
Upon hearing this question, my chest tightened and my eyes began to fight back tears. I knew immediately whom he was referring to.On October 20, 2018, my aunt, Susan Ray, unexpectedly died in a car accident. As Fraser connected with my late aunt, he began touching upon things that only intimate family members would know.

For starters, before learning the cause of death, he made reference to her quick passing and noted that she regretted not seeing everybody before dying.

My aunt passed away on her 50th birthday and we had a family party planned for the next day. I hadn't even spoken to her as I had just arrived from Los Angeles that day.
On top of addressing my aunt's untimely passing, he also brought up her lengthy health struggles. Of course, this was particularly surprising to hear as Susan's hardships were something we rarely discussed outside the family."She says to me, 'I was having an issue both physically and also emotionally. I want to tell my family that I'm sorry for everything that had happened,'" Fraser relayed. "Because, she had died so quickly and not only did everyone not get to say goodbye, but they were kept out of the loop of everything that was going on."

For many years, my aunt suffered from unexplained seizures, gastrointestinal issues and more. In fact, we never truly got clarity on what was wrong with her.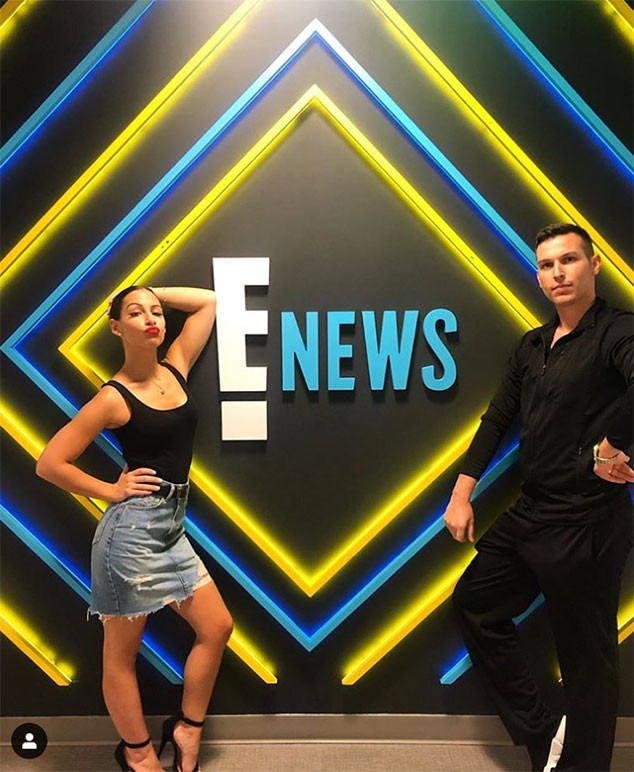 "She says, what was going on with her body, they were having an issue diagnosing her. She's showing her going back and forth to the doctors and not being able to understand what was going on with her," the new E! personality expressed. "I'll feel a spirit and I felt it all in my stomach, this pain."As he continued the reading, Fraser highlighted how my aunt struggled with depression due to her illness. Thankfully, he assured me that she was as vibrant as she was pre-sickness on the other side.

Still, I was most shocked when Fraser seemingly solved how my aunt ended up in a car accident. Without being told the specifics of her death, Fraser said (while channeling the spirit) that he felt like he was "being run over by a car."
"I feel like I'm almost being run over by a car. There's this huge pain, right here," Fraser said while gesturing to his stomach. "She says, 'I was just trying to get through what was going on with my body and all of a sudden, I felt this crushing and I just died.'"Furthermore, Fraser believed Susan began to die "before the car accident" as she had "a rupture." This fact left me choked up as, in the year following her death, we still didn't have clarity into what caused her accident.

Per an eye witness, Susan was driving her car normally before accelerating to a high speed. It's said she swerved a few times before hitting several cars.

"I tell you one thing, she would've passed anyway," the psychic medium turned reality star concluded. "So, whether she was in that car accident or not—I hate to say it like that, but I gotta tell you the truth—she says to me, 'I wouldn't have made it.'"

I don't think I can accurately put into words the impact this reading had on me. But, what I can tell you is, I one hundred percent cried in my car afterwards.
Watch the series premiere of Meet the Frasers Monday, Jan. 13 at 10 p.m., only on E!