Matt and (then) fiancée Alexa Papigiotis were engaged and he dished that filming was already underway but was paused due to the pandemic. Like everyone else, Matt was hoping for a short pause – which turned into multi-months of isolation.
"It was crazy because the pandemic came in and it shifted everything," Matt recently told Showbiz Cheat Sheet. "I feel like it changed TV as we know it. It was kind of weird because we had almost two years, where the world missed out on everything. We missed out on so many shows. We missed out on so many people's lives."
Fans of psychic Matt Fraser will finally get to catch up with the Frasers
Even though he couldn't move forward with another season of Meet the Frasers, Matt continued to host live virtual readings and he wrote more books. He teased that his new book, "We Never Die: Secrets of the Afterlife" is definitely not his last.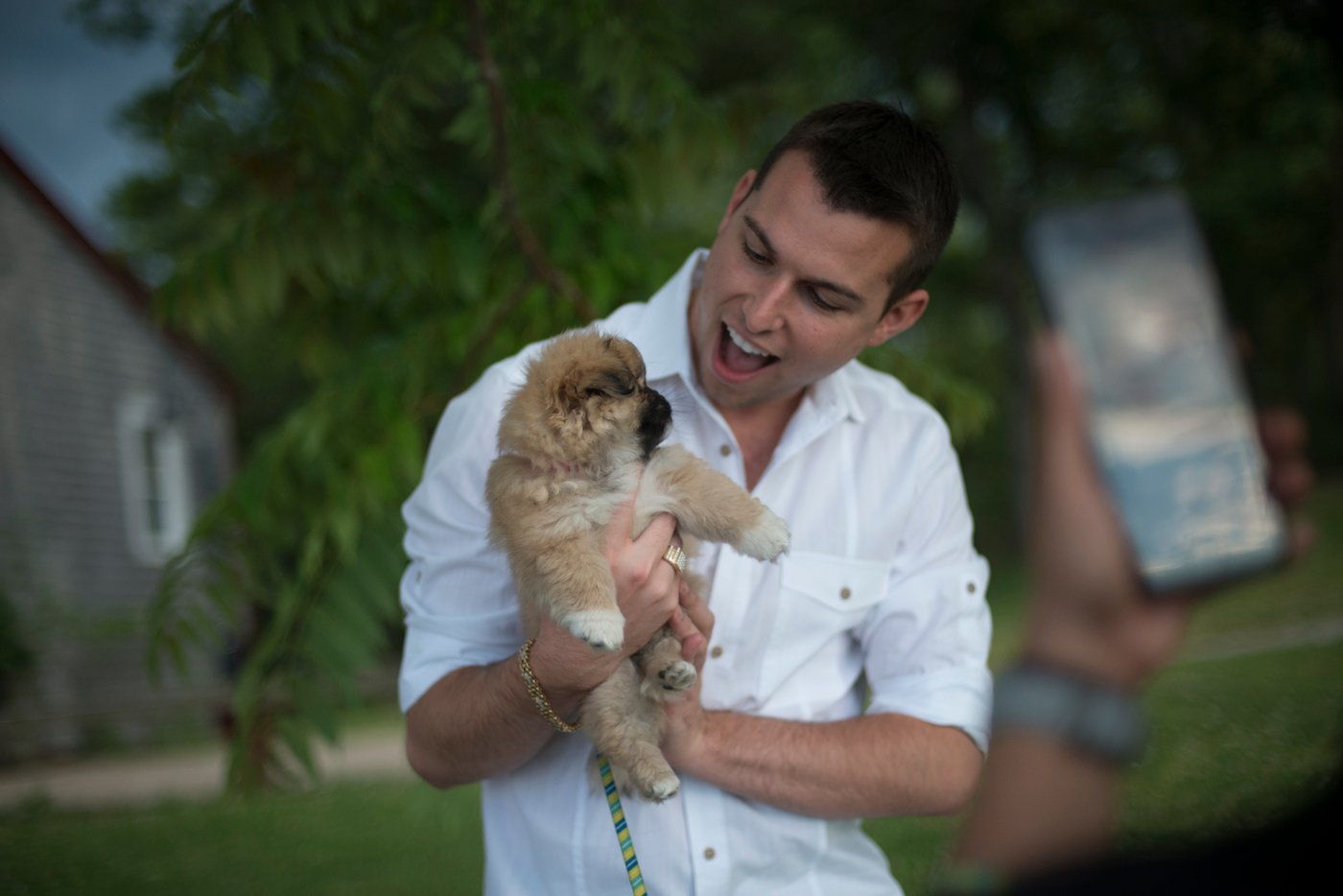 But fans still wonder what happened since Matt and Alexa got engaged, but they also missed seeing his fun family who seems to believe that social distancing doesn't exist when it comes to family. Now fans can catch up with the Frasers on Friday, January 6 at 8 pm on Facebook Watch with The Frasers +ONE.
"The same thing happened with Alexa and I is that there was just this big gap," Matt said since his show Meet the Frasers Season 1. "What was so amazing is that the moment that we got the all-clear and the moment that everything started to get back to normal, it was the time when Alexa and I actually found out that she was pregnant."
Psychic Matt Fraser gets married on the new show … and here comes baby!
In 2020, Matt hoped that fans would follow not only their journey to the altar but their dream to have a baby someday. "And the moment that happened, filming started right back up. So we're so excited," he said.
The trailer will hook anyone who watches it. Matt and Alexa recount their lavish Palm Beach, Florida wedding and the thrill of learning that Alexa is pregnant. "My head is killing me," Matt is seen telling Alexa. "You know how you have pregnancy brain? I have psychic brain." Hilariously adding, "I have a conga line full of dead people right behind me."
Matt said he was thrilled to return to TV, especially to a streaming platform like Facebook Watch because fans don't have to pay for it, they can access the show at any time, plus it has a wider, global reach.
"The only difference is we had to find a different home," Matt said referring to the move from E! to Facebook Watch. "So now we are streaming, which is amazing. And the new show is The Frasers + ONE, which is a one-time special that's coming out to bring everybody back and show them what happened during that time when we were on hiatus."
He even wears a pregnancy suit on 'The Frasers + ONE'
Matt may be a psychic medium, but he admitted to being pretty clueless about what his wife endured during her pregnancy. Fortunately for Alexa, his friends and family were happy to help him find out. He's seen putting on a pregnancy simulation suit and the result is nothing short of comical.
"This is my first time having a child and more importantly, learning the ropes of how to deal with pregnancy just like Alexa was. So, I had to learn just as much as she did!" he shared.